H9 CubCrafters XCub / GP76cc COMBO DEAL!!!
ARF Cub plus brand new GP76cc twin Engine
Incredibly versatile!
The XCub is the fastest, strongest, best equipped and most capable STOL airplane CubCrafters has ever built. To the full-scale pilot, its availability is like having your all-time favorite airplane completely replicated with the best in modern design, technology and comfort for unrivalled performance. As the largest and most capable Hangar 9® Cub model produced yet, the XCub 60cc ARF brings the CubCrafters vision to the RC pilot who wants an incredible giant-scale experience with adventure-driven capability and performance versatility in a classic form that doesn't take significant expertise to appreciate.

The Hangar 9® XCub 60cc ARF is an officially licensed replica of the CubCrafters marvel. Working closely with the company, factory drawings of the full-scale aircraft were used to design the model. And, like the full-scale original, our giant-scale XCub model was developed by scrutinizing every element of the platform to make the tried-and-true design better at meeting the needs of the modeler. The result is a best-of-the-best contender for the RC pilot seeking a giant-scale airplane that can do it all. And even though it's large in size, modern conveniences and performance factors make it easy to complete, easy to handle and easy to fly with rock-solid control. Laser-cut wood construction results in a rugged airframe designed to make onlookers second guess it from the real thing. Genuine UltraCote® covering provides an exterior finish that replicates the CubCrafters original in its debut trim scheme and colors. Its outline is authentic with scale and other details that are practical and realistic, including sprung gear with aluminum wheels and tundra tires, a rugged tail wheel assembly, airfoil-shaped wing struts and operational LED lighting just to name a few.

Your time at the bench has also been engineered to be as enjoyable as possible. A majority of the assembly is bolt-together, and the complete hardware package includes everything needed for gas or electric power system installation. The large fiberglass cowling can fully conceal a powerful engine like the easy-to-use Evolution® 62GX, or an incredibly smooth motor like the E-flite® Power 360. Batteries are convenient to access through a scale, hinged cockpit door and window that locks using a unique no-tools-required mechanism. The two-piece plug-in wing design and folding struts make transport and storage easy. And the flaps and ailerons feature factory-installed composite hinges and are secured with a removable metal pin to help deliver scale fidelity and functionality without extra work.

With the XCub 60cc you get the classic Cub experience plus the benefits that modern design and technology offer in a model that will make your friends think you're a giant-scale expert. Additional vertical fin area offers improved stability while streamlined landing gear reduces drag for better acceleration and speed so the XCub is just as at home cruising around at a slow and comfortable place as it is with the throttle wide open. Plus operational flaps help to deliver impressive STOL performance and widen the flight envelope. You can even install the included high-quality metal tow release mechanism to use it as a capable and realistic glider tug.The modern design and features, plus classic lines, adventure-driven capability and performance versatility, make the XCub 60cc the ideal choice for the RC pilot wanting a giant-scale airplane with the ability to putt through the air one moment, then lay down aerobatics the next, at their favorite field or in the open tundra.
Officially-licensed replica of the thoroughly modern CubCrafters XCub
Expertly constructed with lightweight, laser-cut balsa and plywood
Finished in an authentic trim scheme with genuine UltraCote® covering
Fitted with high-intensity, 3S-compatible LED lightsv
Two-piece plug-in wings with anodized aluminum wing tube
Airfoil-shaped wing struts with matching paint finish
Operational flaps for STOL capabilities
Factory-installed, scale-type flap and aileron hinges
Scale landing gear with matching paint finish
Genuine Sullivan 7-inch SkyLite wheels with aluminum hubs
Rugged machined-aluminum, tundra-style tail wheel assembly
Magnetically-secured top hatch and hinged cockpit door
Painted fiberglass cowl and scale-shaped spinner
Designed to accept gas/petrol engines and electric motors
Complete hardware kit with engine and motor mounting hardware
Optional-use tow-release mechanism included
Optional articulated landing gear and inflatable bush wheels (sold separately)
Optional full pilot figure and detailed instrument panel available (sold separately)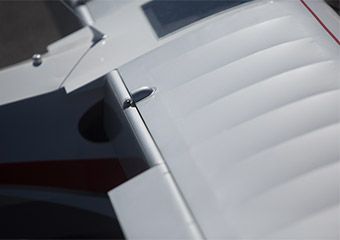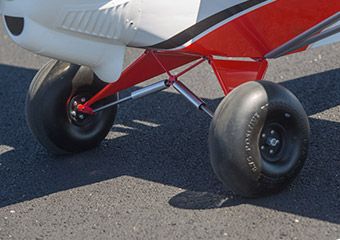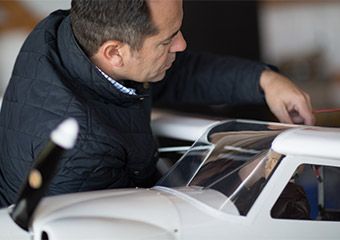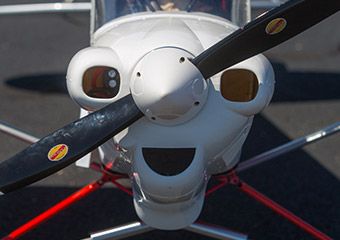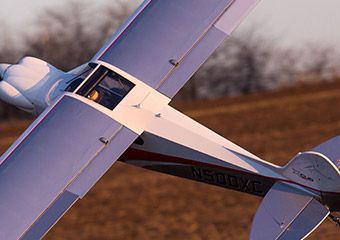 Construction: Laser cut balsa and plywood
Wing: Two-piece plug-in with anodized aluminum wing tube, operational
flaps for STOL capabilities, airfoil-shaped folding struts with
matching paint finish, flaps and ailerons feature scale-type
composite hinges
Covering: Hangar 9 UltraCote
Landing Gear: Scale landing gear painted to match covering,
Sullivan 7" (178mm) diameter SkyLite wheels with aluminum hubs,
machined-aluminum, tundra-style tail wheel assembly
Cowl: Painted fiberglass
LED Lights: High-intensity, 3S-compatible
Top Hatch: Magnetically secured, hinged cockpit door, pilot figure
figure and instrument panel not included (sold separately)
Tow Release Mechanism: Built-in location on top of fuselage to attach
tow hook for towing sailplanes or banners
Spinner: 4" (102mm)
Fuel Tank: 20oz (590cc)
Warranty: Horizon Hobby, LLC, (Horizon) warrants to the original
purchaser that the product purchased (the "Product") will be free
from defects in materials and workmanship at the date of purchase.

ARF CubCrafters XCub 60cc 116" Airplane with LED Lighting, Landing
Gear, Spinner, Tow Release Mechanism and User Manual

Radio System: At least 6-channel
Servos: Eight Spektrum A6320 HV mid torque recommended
24" Heavy Duty Servo Extension: Two
9" Heavy Duty Servo Extension: One
36" Heavy Duty Servo Extension: Two
Receiver Battery: 4000mAh 2S 7.4V LiPo

Electric Power;
Brushless Motor: Phoenix Edge 160 recommended
Electronic Speed Control: 120A
LiPo Batteries: Two 6S 4000mA 7.4V
Gasoline Engine Power;
Engine: 50-70cc 2-stroke gas OR 61cc 4-stroke
Building and field equipment

Approximate Assembly Time: 15-20 hours
Length: 82" (208cm)
Wingspan: 116" (294cm)
Flying Weight: 27-31 lbs (12-14.5 kg)
Wing Area: 1908 sq in (123.1 sq dm)
Wing Loading: 35 oz/sq ft
Airfoil: Semi-symmetrical
Wing Tube Length: 37.5" (95.2cm)
Wing Tube Outer Diameter: 1.25" (31.7mm)

Following are the Hangar 9 UltraCote colors used to cover this
airplane, and stock numbers for 2m rolls;
White, HANQ1122
Silver, HANQ1137
Deep Red, HANQ1124
If a replacement fuel tank is needed, the DuBro 20oz (DUBQ0220)
may be used.
Some modification and trimming to the inside of the fuselage may be
required when installing any aftermarket tank.
ARF - H9 CubCrafters XCub / GP76cc COMBO DEAL
Brand: Hanger9
Product Code: ARF - H9 CubCrafters XCub / GP76cc COMBO DEAL
Availability: In Stock
CMC Product ID: 2149
R30,681.00

R26,681.00

Ex Tax: R23,200.87
Related Products
Tags: carbon, cub, h9, xcub, crafters cub
Latest